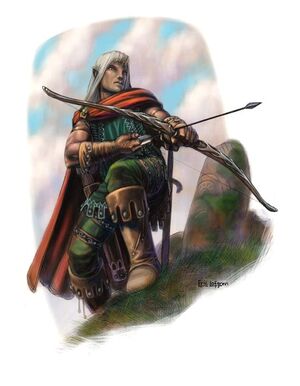 Background
Edit
Elmorn Dawntracker is an elf warlord trying to escape his race and redeem himself in the eyes of the world. After an extremely messy botched caravan robbery where he was left to die, Elmorn decided to change his ways. He sees death as an inevitability, but believes a slow death/ suffering is not.
He will still rob and steal, but only if needed to survive. He is more or less honest, a hard worker, and a skilled bowman.
He hopes that by redeeming himself through an incredible feat may persuade the world that not all elves are evil, and better yet, he hopes that the Elves will take notice and change their merciless and dishonest ways.
Apperance
Edit
Tall, handsome, with worn hands and a defining scar on the right side of his ribs that can be clearly seen without his shirt. He is slender without rippling muscles, but is by no means too skinny. His hair is short and usually covered by a hood. He has a faint scar that runs behind his left ear to his collarbone. One must look closely to find it.
Statistics, Powers, and Equipment
Edit
Elmorn Dawntracker
Elf Male Skirmishing Warlord
Level 7
Unaligned
ABILITY
SCORE
MOD + 1/2 level
STRENGTH
19
+7
Athletics +11 (T)
CONSTITUTION
10
+3
Endurance +2
DEXTERITY
10
+3
Acrobatics +2, Stealth +2, Thievery +2
INTELLIGENCE
10
+3
Arcana +3, History +8 (T), Religion +3
WISDOM
17
+6
Dungeoneering +6, Heal +11 (T), Insight +6, Nature +8, Perception +8
Passive Insight 16, Passive Perception 18
CHARISMA
11
+3
Bluff +3, Diplomacy +8 (T), Intimidate +3, Streetwise +3
AC
19
FORTITUDE
19
REFLEX
14
WILL
18
HIT POINTS
52
BLOODIED
26
SURGES
7
HP HEALED
13
INITIATIVE
+5
SPEED
6
VISION
low-light vision
LANGUAGES
COMMON, elven
Powers: Paint the Bulls-Eye, Risky Shot, Pin Cushion, Inspiring Shot, Spur to Action, Martial Doom, Scent of Victory, Rousing Words, On My Mark
Feats:'''Wild Elf Luck, Elven Precision, Bow Expertise, Weapon Focus (Bow)
Equipment: Targeting Longbow +1, Caustic Gauntlets (heroic tier), Healer's Brooch +1, Chainmail